Color analysis
The experimental equipment of the Institute of Imaging & Computer Vision covers a complete system of image recording featuring professional lighting solutions. Its flexible concept allows for a simple reconfiguration for many different applications.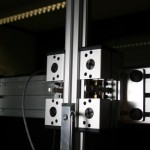 The equipment itself consists of ITEM-Profiles, which offer highly configurable recording solutions, thus allowing a wide variety of different testing scenarios. A simple example for the great customizability is the height adjustment of the camera, which can easily be regulated by pressing two levers together. The fine adjustment is achieved with a screw, allowing an exact configuration.
To seal the equipment from any extraneous light sources black molleton cloth is used — the non-flammability and complete opaqueness of the material make it ideal for blackout. The recording area is protected against unwanted reflections with a black varnish.
The lighting consists of several halogen lamps. In contrast to the fluorescent tubes often used in industrial image processing, they enable better color reproduction. The arrangement was chosen to produce the most homogeneous illumination possible. A diffuser material further enhances this effect. The brightness gradients which remain unbalanced can be corrected by software. The power supply for the illumination was optimized to achieve the most constant illumination possible over time.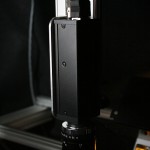 The recording device is a 1.3 megapixel 1-chip industrial camera. The modern IEEE-1394 allows for quick image transfer to the connected PC as well as full control of the camera's configuration. The camera case fulfills all requirements of industrial devices and the commonly used C-Mount objective lenses are fully compatible.